Welcome To River Valley Militaria!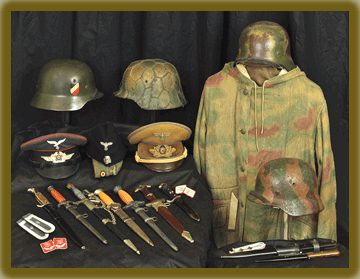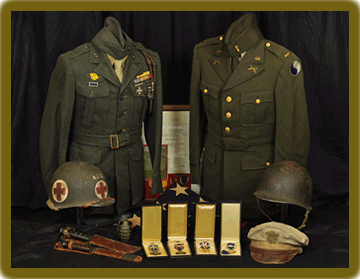 RVM offers authentic WWII period antiquities such as helmets, daggers, bayonets, uniforms, medals, awards, groupings, field gear, and insignia from the United States, Germany and Japan.
We have a special interest in items with a direct veteran connection. Researching an item can be very gratifying when the history and background are discovered.
We are always looking for items to purchase, whether it be one item or a collection, please contact us.
The Camouflage Helmets of the Wehrmacht - Vol.1 and 2
        Introducing the most in-depth and comprehensive pictorial study of WW 2 German camouflage helmets. This edition covers four different types of camouflage including sprayed, brushed, textured and wired. The first volume consists of over 300 pages of high quality colored photographs with detailed descriptions and period pictures of camouflage helmets in use. The format used is 8.5" X 11" for closer viewing of specific characteristics. Vol. 2 continues with chapters on nets, combinations of camouflage, a gallery of selected helmets, helmets with provenance and a study on helmet liners.
               Books are available through this website or can be purchased from B&D Publishing Co.
Click buttons below to shop categories or use "Search" for your specific item